Dr. Gunjan Goyal is now available at Haspatal App.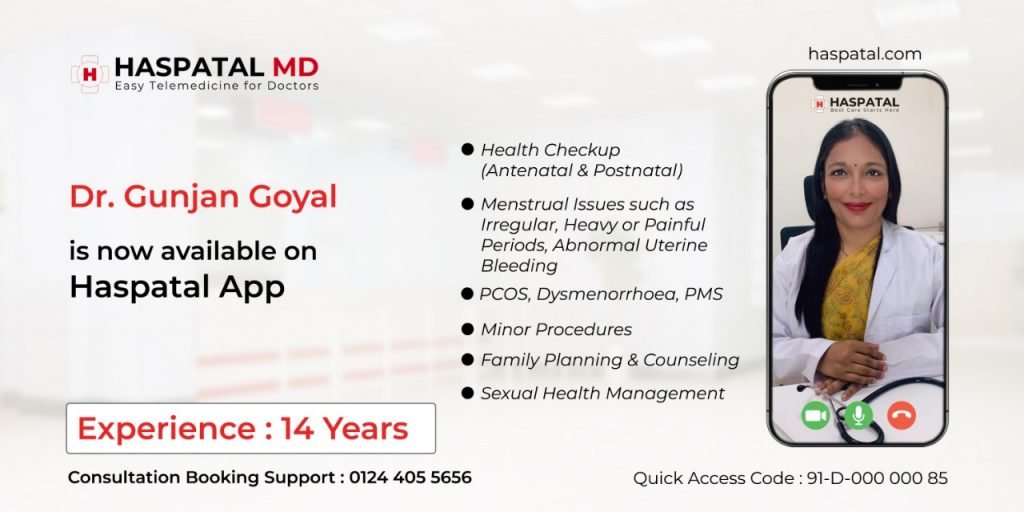 Dr. Gunjan Goyal is a senior Gynecologist with over 14 years of experience. In addition to irregular, heavy, or painful periods, abnormal uterine bleeding, PCOS, and PMS, she also treats PCOS and PMS. Her other specialties include Sexual Management, Family Planning, and Counselling, as well as minor surgery.
What is Gynecology?
A gynecologist's practise is focused on women's reproductive health. Gynecologists are doctors who specialise in the diagnosis and treatment of disorders that affect women's reproductive systems. The uterus, fallopian tubes, ovaries, and breasts are among these organs. A gynaecologist can help any woman who is having difficulties with her female organs.
What does a Gynecologist do and when should you visit one?
A makeup artist who also specialises in skin care and cosmetics is known as a Gynecologist. He or she offers cosmetics for the hair, skin, and body, as well as other beauty treatments. Due to the wide range of services they perform, Gynecologists are recognised for a number of occupations, including hair styling, barbering, aesthetics, nail technician, make-up artist, and electrology.
Gynecologists do pelvic exams, Pap tests, cancer screenings, and the detection and treatment of vaginal infections, among other reproductive and sexual health services. Other reproductive system disorders they treat include endometriosis, infertility, ovarian cysts, and pelvic pain. Obstetricians are gynaecologists who treat women during pregnancy and delivery. A gynaecologist who also specialises in obstetrics is known as an OB-GYN.
A gynecologist might be required for the following reasons:
A gynaecologist can diagnose the cause of an unusual discharge or odour and provide treatment.
Pelvic discomfort, often known as lower abdominal pain, might signal a problem with the reproductive organs. Pelvic pain is caused by a variety of factors, including menstrual cramps, ovarian cysts, endometriosis, and ectopic pregnancy.
To keep your reproductive health in control, you should see your gynaecologist on a regular basis. Depending on your health history and age, your gynaecologist may utilise this session to screen for cervical or breast cancer. During your well-woman visit, you can also ask the gynaecologist about reproductive health problems such as birth control.
You should consult a gynaecologist if you detect any changes in your monthly period, such as significant pain or bleeding. If you're in your 40s or 50s, your gynaecologist can help you find out if you're going through menopause. Gynecologists may also help you with questions about pregnancy, such as how to avoid becoming pregnant and what to do if you think you're pregnant.
What can you expect from a Gynecologist when you visit one?
The conditions of the patient and the reason for the appointment define gynaecological visits. However, there are a few key determinants to remember during any visit to the gynaecologist:
A candid evaluation of your medical issues and lifestyle gives the Gynecologist a better knowledge of your situation and allows them to help you more effectively.
A pap smear, which is part of a gynaecological exam, might be uncomfortable but is barely painful.
A pap smear, which is part of a gynaecological exam, might be uncomfortable but is seldom painful.
Waxing or shaving are not required before your session.
A patient might ask for someone to accompany them to their appointment, either inside or outside the room.
Bodily scent is a common phenomenon in humans. If it indicates a problem, the gynaecologist must be notified.
How to consult Dr. Gunjan Goyal?
Dr. Gunjan Goyal is a board-certified Gynecologist who now offers video consultations through the Haspatal App. Patients may now consult her from the comfort of their own homes by scheduling a video consultation through quick access code 91-D- 000 000 85 or an in-clinic visit using the Haspatal App.