Dr. Om Prakash Gupta is now available on Haspatal App.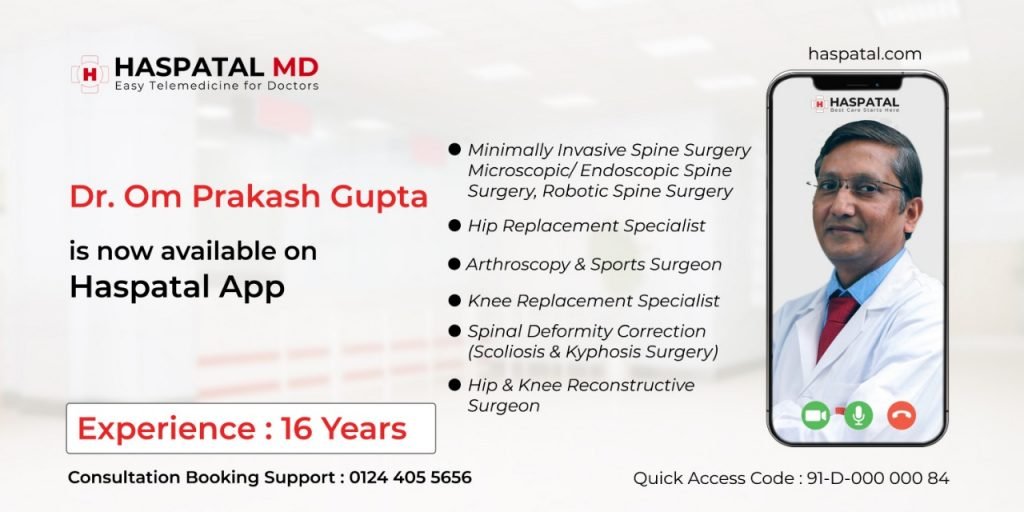 Dr. Om Prakash Gupta is a Neurosurgeon with over 15 years of experience. His specializations include Joint Replacement, Emergency & Trauma, Rheumatology, Pain Medicine, Pediatric Sports Medicine and Neurosurgery. Also, he is a Hip & Knee Reconstructive Surgeon, and can perform Arthroscopy, and Scoliosis & Kyphosis Surgery.
What is Neurosurgery?
Neurosurgery is a medical speciality that focuses on the diagnosis and treatment of patients who have injuries to, or diseases/disorders of, the brain, spinal cord, and spinal column, as well as peripheral nerves throughout the body. Adult and paediatric patients are also treated under neurosurgery. A neurological surgeon may give surgical and/or non-surgical care, depending on the type of the damage or condition.
What does a Physiatrist do and when should you visit one?
Neurosurgeons are doctors who specialise in the diagnosis and treatment of diseases of the brain, spine, and other components of the nervous system. They vary from neurologists in that they are trained and qualified in the use of surgical procedures, whereas neurologists specialise in other types of therapy. Neurosurgeons treat a variety of neurological conditions, including lower back discomfort, peripheral nervous system disorders, and brain malignancies. Neurosurgeons operate various Imaging Technologies like, MRI, PET Scan, CT scan, MEG Scan to find the root of the problem. There are various disorders which become the reason to visit a Neurosurgeon. Some of them are Meningitis, Spinal Disk Herniation, Parkinson's Disease, or Epilepsy.
What can you expect from a Physiatrist when you visit one?
Following are some tips to keep in mind for your primary visit to a Neurosurgeon:
Glimpse of the background – This is crucial in assisting the doctor in determining the source of the problem. Many individuals can recall some of their symptoms, but it's helpful to have a comprehensive detail of what you're going through, especially if specific acts tend to set off a reaction. Do you get more severe headaches in the morning? Is your back discomfort becoming more severe as the day progresses? When you lie down, do you feel pressure in your head? All of this should be recorded and discussed with your doctor at your consultation.
When you see your neurologist, be sure to tell him or her about any over-the-counter medications or prescription medications you are taking.
It's critical that you and your neurosurgeon be on the same page, so tell them what you hope to achieve via therapy. Do you want to be able to cycle or kayak following your back surgery, or just bend over and play with your grandkids without pain? You can guarantee that you get the finest therapy that meets your goals by telling your doctor what you want to get out of treatment.
A doctor's consultation should never be a one-sided exchange. You should inquire about your treatment choices, what to expect from therapy, what you can do to put yourself in the best possible position for a successful operation, and how to avoid a recurrence of the problem. The more questions you ask, the more you will comprehend, which will help you relax.
It's totally natural to have concerns about your health or a possible procedure, so talk to your neurosurgeon about them. The great majority of the time, they can help you relax by explaining anything or telling you that everything will be alright. If you need further support after you leave the doctor's office, they can guide you in the right way.
How to consult Dr. Om Prakash Gupta?
Dr. Om Prakash Gupta is a board-certified Physiatrist who now offers video consultations through the Haspatal App. Patients may now consult her from the comfort of their own homes by scheduling a video consultation through quick access code 91-D-000 000 84 or an in-clinic visit using the Haspatal App.